​Pope Francis apologizes to Indigenous delegates for 'deplorable' abuses at residential schools
Posted: April 1, 2022
First Nations, Inuit and Métis conclude historic week of meetings

Olivia Stefanovich · CBC News ·Posted: Apr 01, 2022 4:00 AM ET | Last Updated: 8 minutes ago


Pope Francis has apologized for the conduct of some members of the Roman Catholic Church in Canada's residential school system, following a week of talks with First Nations, Inuit and Métis delegations.
The delegates had gathered for a final and public audience with the Pope at the Vatican on Friday as Francis spoke of feeling "sorrow and shame" for the conduct of those who ran the schools.
"I also feel shame ... sorrow and shame for the role that a number of Catholics, particularly those with educational responsibilities, have had in all these things that wounded you, and the abuses you suffered and the lack of respect shown for your identity, your culture and even your spiritual values," he said.
"For the deplorable conduct of these members of the Catholic Church, I ask for God's forgiveness and I want to say to you with all my heart, I am very sorry. And I join my brothers, the Canadian bishops, in asking your pardon."
WATCH | Pope Francis apologizes to Indigenous delegates for 'deplorable' abuses at residential schools5 hours ago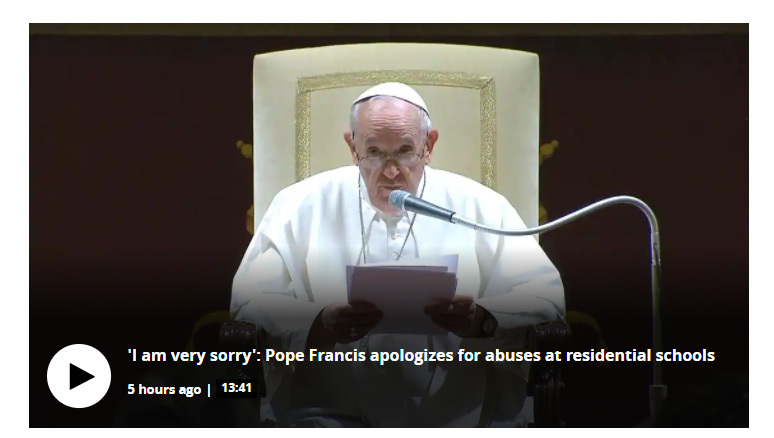 Saying he was 'deeply grieved by the stories of the suffering' experienced in residential schools, Pope Francis apologized to Indigenous
delegates at a public audience at the Vatican. 13:41
Francis also said he hoped to visit Canada "in the days" around the church's Feast of St. Anne, which falls on July 26.
Dene National Chief Gerald Antoine, one of the lead delegates, compared hearing the apology to the experience of walking through the snow and seeing fresh moose tracks.
"That is the feeling that I have, because there is a possibility," he said moments after the apology.
"Today is a day that we've been waiting for and certainly one that will be uplifted in our history."

ABOUT THE AUTHOR
ivia Stefanovich Senior reporter
Olivia Stefanovich is a senior reporter for CBC's Parliamentary Bureau based in Ottawa.