The Family Centre Projects
The Family Centre is not only a hub of collaboration, it is also a hub of innovation. Check out our current, major projects below:
FC Community Hub
The Community Hub is an innovative incubator project for small and start-up not-for-profit groups and organizations, running out of The Family Centre. The Community Hub is no ordinary office space! It's an 'incubator' program, where organizations have access to peers, mentorship, and technology in order to increase their sustainability.
Want to learn more about The Community Hub? Click here.
---
Morning Glory Cafe @ The Family Centre
Morning Glory Cafe @ The Family Centre is a social enterprise that supports work- and life-skills development in youth referred to the program through Family & Children's Services. Morning Glory Café & Bakery serves great food at reasonable prices. When you choose the Morning Glory Café for your meals, you get fresh products and personable service, but that's not all...you strengthen the core of our community!
Want to learn more about Morning Glory Cafe? Click here.
---
The Resilience Project
The Family Centre is part of an exciting project that endeavours to meet the needs of children and youth with the goal of building relationships between caregivers, peers, and community. Funded by the Lyle S. Hallman Foundation, the Building Resilience in Children, Families, and Community (BRCFC) project will continue the work of the Child and Youth Resilience Project, and boost the community capacity for enhancing resilience in our children, families, and community through offering creative programming, collaboration of services, and support aiding children and families experiencing adversity.
Under the BRCFC project, The Family Centre offers resilience programs - for children ages 6 to 12 years - ranging from art and music classes to fun activities for the whole family. These programs take place at The Family Centre, as well as in the community.
Figure 1. Resilience as a Form of Mandala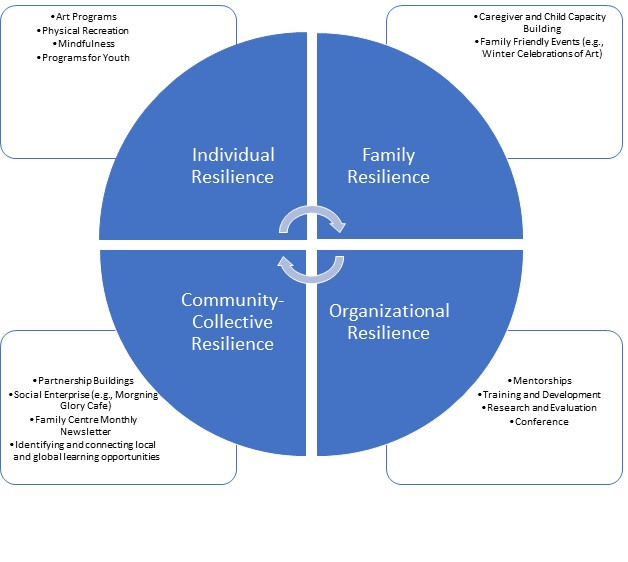 Want to learn more about the Resilience Project? Click here.