Coalition of Muslim Women of KW - Family Law Sessions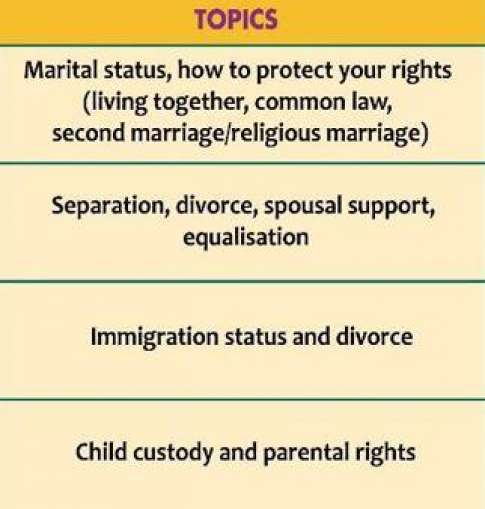 Family Law Sessions (English, Urdu, Arabic and Somali)
CMW invites members of the racialized communities to attend Family Law sessions with lawyers. These sessions are open to both women and men. Lawyers will present information in the first half of each session. Remaining time will be used for Q/A.
Sessions are offered in English, Arabic, Urdu and Somali at this time. The schedule for each session is in the image and as well as can be found athttps://bit.ly/3EyUPQj
Use the image to choose the sessions that you would like to attend. Session topics are on the left.
Once you complete the registration, you will receive an automated email with Zoom link for the meeting.
If you need help with registration, please email or call Aysegul Bagci at aysegul.bagci@cmw-kw.org or call at 519-576-0540 ext. 3567.