Bridges to Belonging
BE-Friends: We want to welcome Samantha Panchaud, our newest facilitator and Project Coordinator for the BE-Friends program. BE-Friends is a volunteer matching program that connects people with any disability 17 years or older (Friend) with a community volunteer "Buddy" (19 years or older). The pair gets together as often as they want, enjoy fun activities they choose, and become part of each other's world. BE-Friends is a bridge to meaningful reciprocal relationships and lifelong friendships.
People are being matched and friendships are blooming. We invite you to become part of this friendship adventure!
If you are 17 years old or older, living with a disability, and want someone to spend time and build a lasting friendship with, we invite you to Click Here and fill out an application to be matched with a Buddy Community Volunteer.

If you are 19 years old or older and want to create an authentic friendship as a Volunteer Buddy to a person with a disability and be part of their journey to living their best life, we invite you to Click Here.
None of this would be possible without the generous support of the Kitchener-Waterloo Community Foundation. We are grateful that they are partnering with our entire community to ensure that friendships are free. (see UPDATED BE-Friends poster).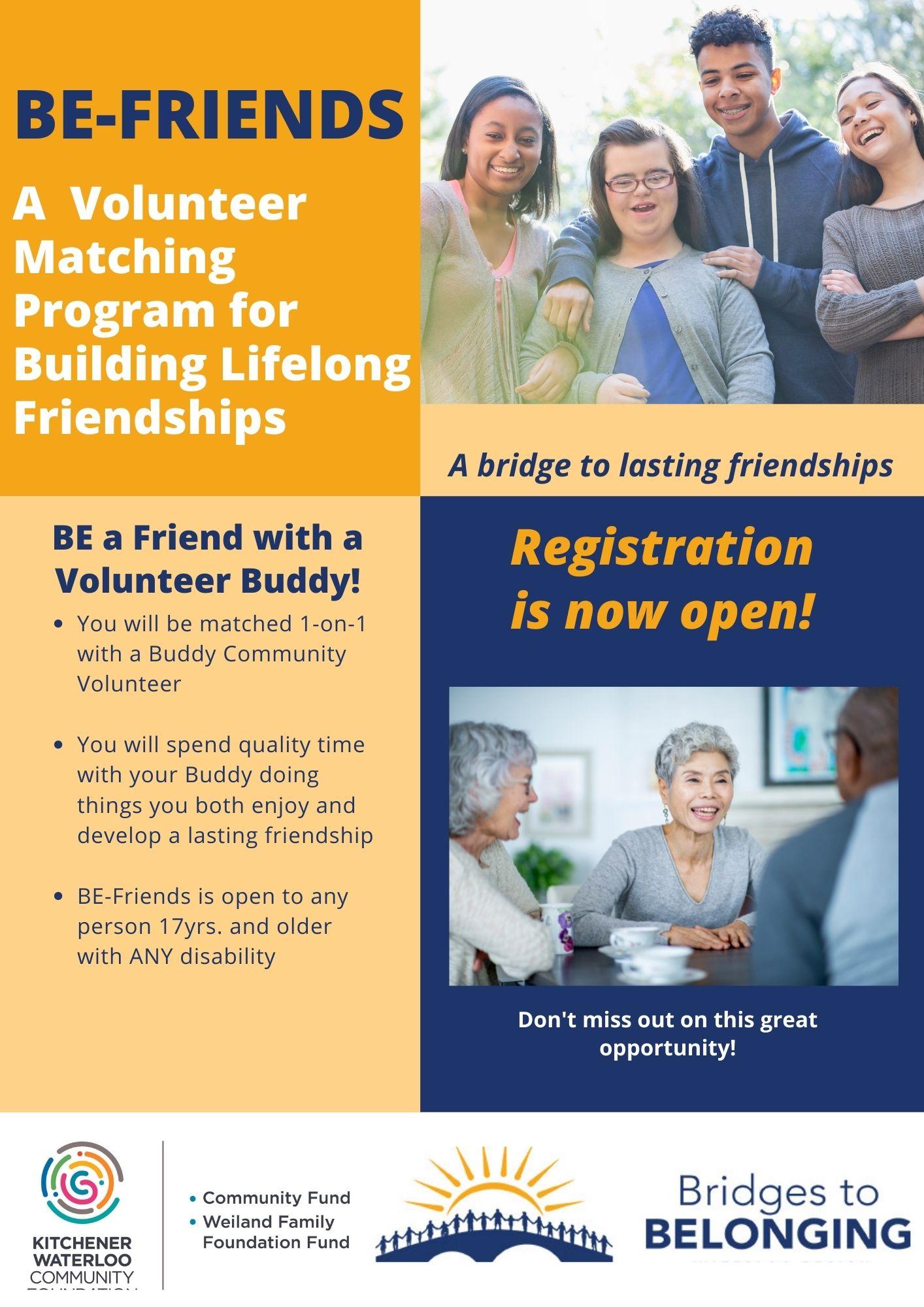 BE-Connected: Are you looking for a place to hang out and meet a great group of people who will always welcome you and celebrate who you are? Come join us on Wednesday nights here: from 7-8 P. M. at BE-Connected, a community where EVERYONE is welcome and belongs. Please email communityrelations@bridgestobelonging.ca for the Zoom information.

The following is the Zoom information through March 9, 2022. (See BE-Connected poster)
Link: https://us06web.zoom.us/j/81897785039?pwd=bkpEZklwdHZZOVl5WHJVV1FobXpwUT09
Meeting ID: 818 9778 5039
Passcode: 012889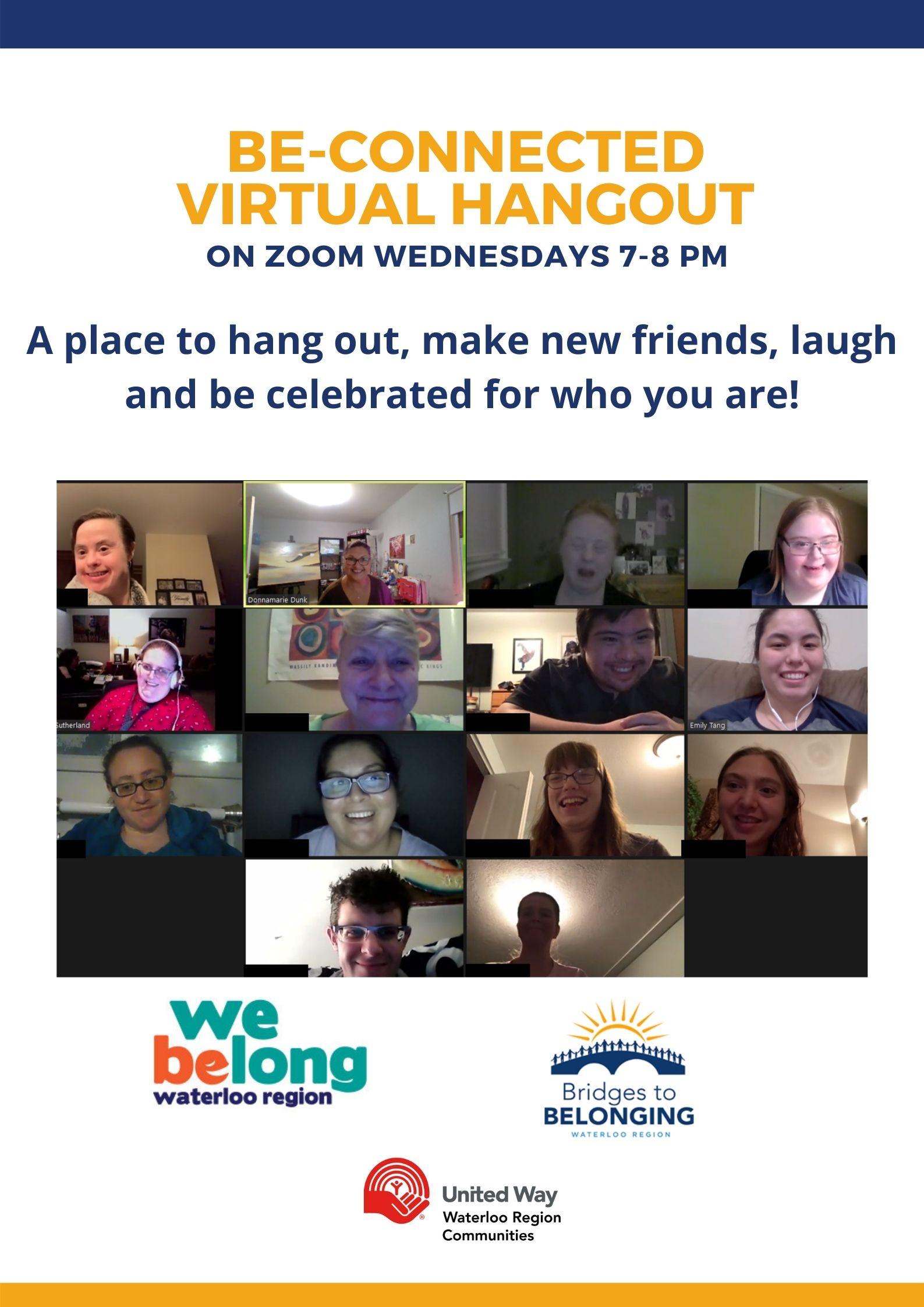 LINKS is an initiative offered by Bridges to Belonging that enables youth to reduce isolation, overcome barriers to inclusion and build the resilience necessary for a good life by developing a network of supportive, meaningful relationships and community connections. For more information, please click here. (See LINKS poster) .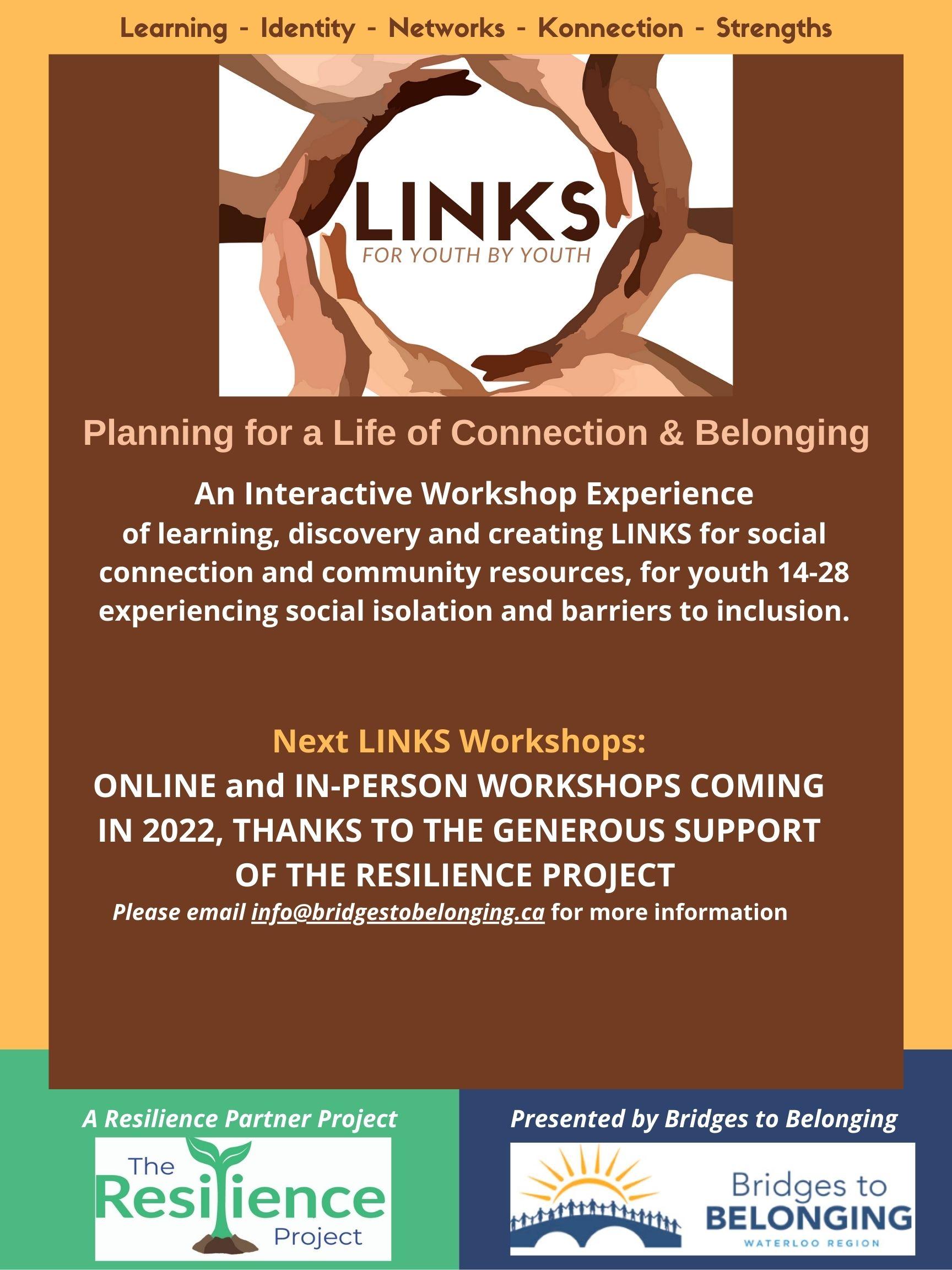 Future Planning Series: We invite you to join with other families and caregivers in Waterloo Region on January 13, 2022, from 6:30-8:30 P. M. to learn from David Amy a local lawyer with Amy, Appleby, and Brennan as he shares valuable information and answers your questions about Wills, Estates, Henson Trusts and Power of Attorney and critical considerations to planning a safe and secure future for your loved ones with a disability. To learn more and register here: https://bit.ly/FuturePlanningSeries2122 and keep an eye out for future events. (See Future Planning poster)