Bridges to Belonging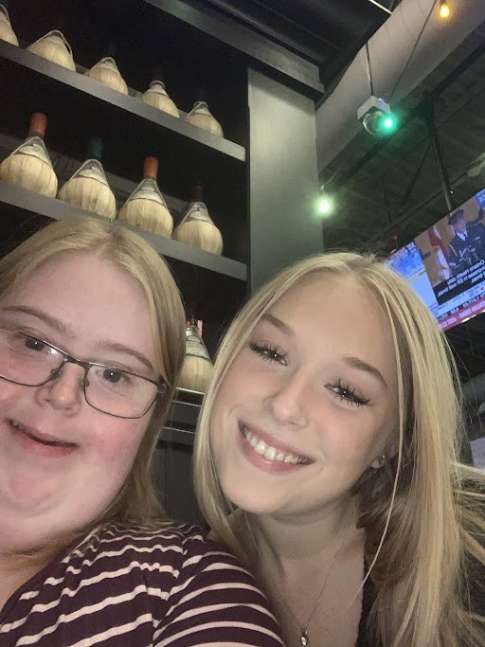 BE-Friends: Meet Kayla and Lauren, fast friends who met from our BE-Friends program. They are loving their connection and have done many fabulous things together. They have been to the movies, out for dinner, and to the mall. Equally important is how they are learning to be good friends to each other. Kayla notes: "We hang out every week unless I'm busy with school. She's very understanding of that!" Lauren agrees "<Kayla is> a great friend!"
Lauren's mother is also very thankful for the friendship. She notes that Lauren "…gets so excited when she knows they are having chat or <they are> getting together. She also says: "This has made a difference for my daughter to be able to go out and decide on things to do with a friend."
Do you want a genuine friendship with someone where together you can find connection and fun in the community? If you are If you are 17 years old or older, living with a disability, and want someone to spend time and build a lasting friendship with, we invite you to Click Here and fill out an application to be matched with a Buddy Community Volunteer.
If you are 19 years old or older and want to create an authentic friendship as a Volunteer Buddy to a person with a disability and be part of their journey to living their best life, we invite you to Click Here.
We are also matching seniors together for fun and connection. If you are a senior, and are interested in making a new friend to connect with in community, please apply here https://forms.gle/XvSRSJyHdJKVNWcH8
The A-Team: The A-Team is a peer-to-peer learning group led by individuals with Autism Spectrum Disorder - Level 1. Adults 18 years and older who self-identify as neurotypical/neurodivergent are invited to attend. The meetings take place on the third Thursday of every month, from 7:30-9:00 pm and are supported by Bridges to Belonging. Join the discussion to learn, grow, and connect with peers.
For more information, please email ateam.waterlooregion@gmail.com or visit the website at ateamwaterlooregion.com
Future Planning: Join Bridges to Belonging and other Waterloo Region families for our next Future Planning workshop on Thursday, January 26 from 6:30-8:30 P. M,. This one will feature David Amy from GGFI Law and he will discuss Wills, Executors & Trustees, Power of Attorney, Trusts & Henson Trust.

Learn more and register here: https://www.eventbrite.ca/e/2022-2023-future-planning-webinar-series-tickets-411455122347
Carmen Sutherland (she/her)

Bridges to Belonging | Community Relations
519-500-7153 | communityrelations@bridgestobelonging.ca