Guide to Booking a Room Online
Step 1: Visit Family Centre Room Bookings to view our Room Booking Calendar. Here you'll be able to select the room, date and time of your booking.
Step 2: Use our Room Details and Rates page to determine the best room for your event or meeting. You can sort the rooms using the categories on the left side of the screen.

Step 3: In the top of the left side of the screen, you will see a calendar. Select the date your booking will take place. Once you have selected your date, you will be able to see the availability of the rooms at a given time on that date.
Step 4: Under the column of the room number you want to select, click beside the time you'd like your booking to start. If you make a mistake here, both times and dates can later be adjusted!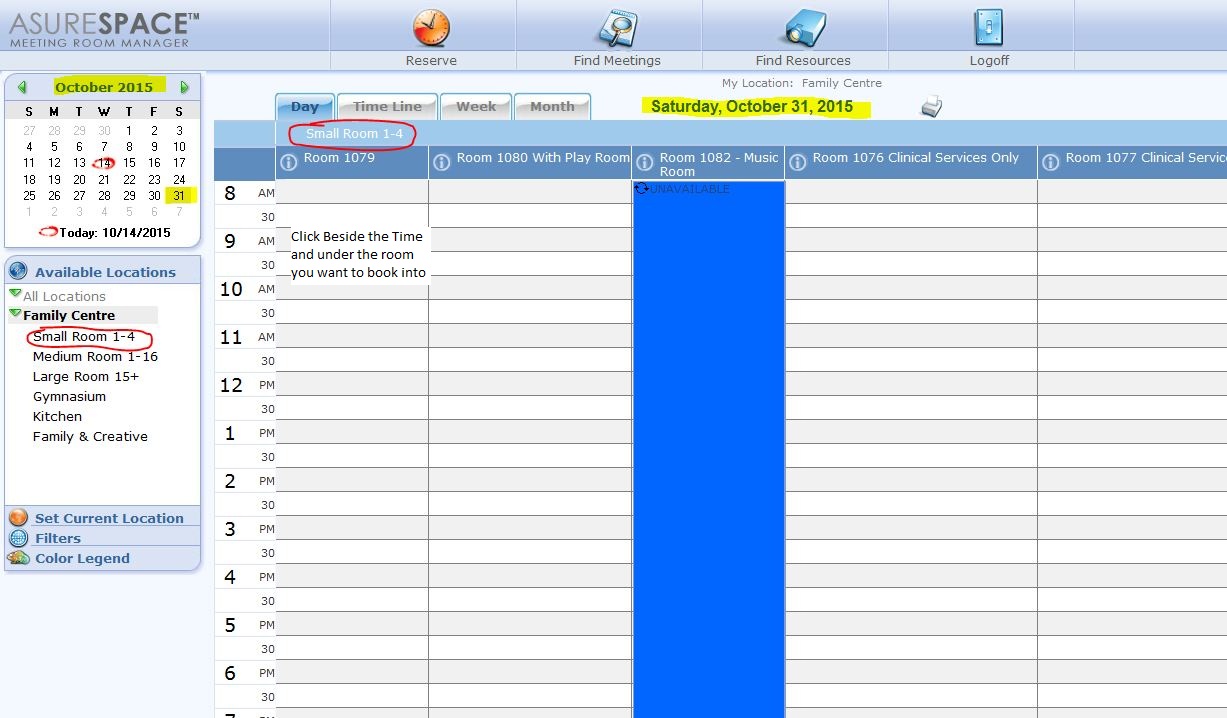 Step 5: Verify the date, as well as start and end times reflect your event needs. Your event booking time should include both set up and take down!
Step 6: Include your name, email and phone number for event confirmation.
Step 7: Include a Meeting title your guests can identify. Information included in this box will be displayed on the Family Centre Electronic Meeting Board with the room number. Please do not use this space to share room specifications, notes, or client information.
Step 8: Click 'Save & Close'. The page will refresh and your meeting block will be displayed in white for the time block on the requested day beneath your room. Your booking is now requested. Your booking is not final until you receive confirmation from the Family Centre Admin.
Step 9: The Family Centre Admin will follow up with confirmation of your room booking. All bookings require proof of third party insurance and rental contractprior the event/meeting.
Once your event is confirmed, an auto-generated email will be sent verifying the details of your booking.

Any questions or concerns regarding room reservations can be emailed to FamilyCentreBooking@facswaterloo.org or contact 519-576-0540 x2605.

Important Notes
Renters are responsible for set up/clean up of events - time to be included in booking hours.
If you are unsure of the cost, want to discuss the room details, or have any other questions, please get in touch.
Room Capacity is the max number of persons per fire code regulations & includes event staff, guests, and speakers.
Saturday and Sunday bookings will be charged our weekend rate.
It may be possible to arrange bookings beyond our operating hours, subject to additional fees and availability of after-hours staff - please provide minimum of 14 days notice. Please send* an email to FamilyCentreBooking@facswaterloo.org for more information.
Bookings are not final until you have received a confirmation email from the Family Centre Admin.
Administrative approval requires at least 48 hours, whether by email or online booking. To confirm your booking quickly, please email FamilyCentreBooking@facswaterloo.org.
Cancellations require a minimum of 48 hours notice. If a booking is cancelled with less than 48 hours notice, you may be subject to a cancellation fee of $25.00.
Large scale events may also be subject to additional fees.