RENT TO REFLECT: Community Information Session on Wednesday, Nov 30 (7:00pm - 7:30pm) via zoom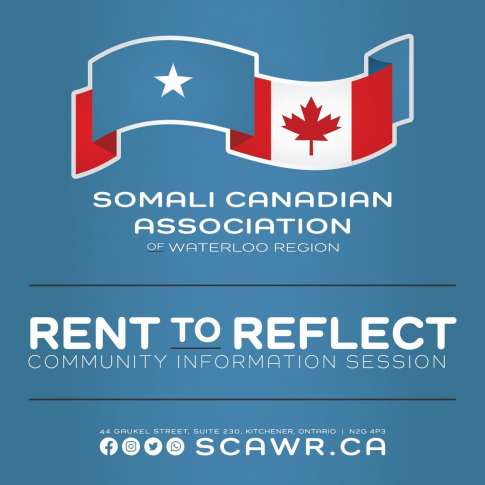 Hundreds of ACB (African, Caribbean, Black identifying) families in the Waterloo Region are waiting for homes!

Local landlords, property managers, and individuals with in-house flats, apartments, and homes for rent are invited to:
"Rent to Reflect: Community Information Session" on Wednesday November 30th, 7:00pm - 7:30pm on zoom.
In this 30-minute session hosted by Somali Canadian Association of Waterloo Region, hear about:
The Building Better Futures Portable Rent Assistance Program (BBFP) in Partnership with the Region of Waterloo.
Also, learn how Somali Canadian Association of Waterloo Region supports landlords and tenants to have positive working relationships.
You can make a difference by welcoming these community members.
Register on Zoom to attend or receive a recording of the session on Wednesday, November 30th 7:00pm -7:30pm using the link below.
https://us02web.zoom.us/meeting/register/tZwtd-iuqT8tE9Vjmf3zs1iXkSGYGS8E0VNX