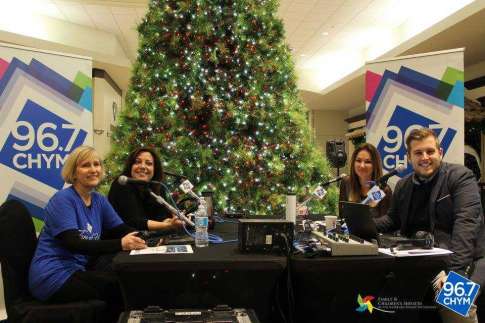 CHYM Tree Of Hope Radiothon
THURSDAY, DECEMBER 6, 2018 - 6AM - 6PM
For one special day, CHYM 96.7 devotes 12 hours of programming to support the Family & Children's Services Foundation
The day kicks off with the amazing morning team of Tara and Brady broadcasting live from CF Fairview Mall - sharing stories of hope all day - with afternoon personality Adele staying with us until the end of the day!
Join us for a day of inspiring stories about how children and youth from our community have benefitted from your donations and support of Family and Children's Services Foundation – not just during the holiday season, but all year long!
Pledges can be made in person or by phone to the CHYM Tree of Hope hotline at 519-748-8733. Every individual, service group or company donation goes a long way to ensure that miracles happen right here in our community!
"With your help and support, there's hope!" -