National Truth and Reconciliation Day
Posted: September 29, 2021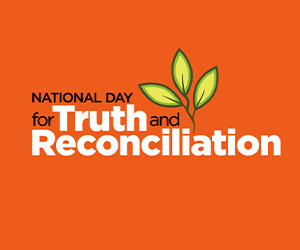 This day is not a holiday for our staff and board members, but a day for deeper reflection, learning and renewed commitment to change.
Child welfare in Canada has harmed Indigenous families and children for more than a century, using foster care and adoption to separate children from their parents and community.
While residential schools have been closed, these practices have continued.
FACS Waterloo is committed to changing this.
What is child welfare's role in the past and present harming of Indigenous children and families? See Frequently Asked Questions: Residential Schools, Truth and Reconciliation, and Child Welfare – Ontario Association of Children's Aid Societies (oacas.org)
The first five Calls to Action of the Truth and Reconciliation Commission were directed to child welfare. Summarized, they call for:
Governments at all levels to commit to reducing the number of Aboriginal children in care by monitoring neglect investigations, providing funding to keep Aboriginal children with their families if possible and in culturally appropriate environments, ensuring child welfare workers know the history and impacts of residential schools and the importance of maintaining community connections, and considering the impact of the residential school experience.
Federal and provincial governments to provide annual reports on Aboriginal children in care, the reasons they are in care, the preventive services and the effectiveness of interventions.
All levels of government to implement Jordan's Principle.
Federal government to enact national standards for Aboriginal child welfare including the rights of Aboriginal governments to have their own child welfare agencies, require consideration of the impact of residential schools in decision-making, and require placements of Aboriginal children be culturally appropriate.
All governments to develop culturally appropriate parenting programs for Aboriginal families.
In our newest Strategic Plan, we are bringing those Calls to Action into our planning for the future.
In 2017, OACAS apologized for the harmful role child welfare has played historically, and continues to play, in the lives of Ontario Indigenous children, families, and communities. As a sector, we unanimously agreed to 9 Reconciliation Commitments. They are:
Reduce the number of Indigenous children in care.
Reduce the number of legal files involving Indigenous children and families.
Increase the use of formal customary care agreements.
Ensure Indigenous representation and involvement at the local Board of Directors.
Implement mandatory Indigenous training for staff.
Change the inter-agency protocol to include Jordan's Principle as a fundamental principle
In consultation with Indigenous communities, develop a unique agency-based plan to better address the needs of the children and families from those communities.
Continue to develop relationships between their local agency and the local Indigenous communities.
Assist those individuals wanting to see their historical files by accessing and providing the information they request.
Family and Children's Services is actively taking up these commitments.
Mental health supports available
Former Residential School students can call 1-866-925-4419 for emotional crisis referral services and information on other health supports from the Government of Canada.
Indigenous peoples across Canada can also go to The Hope for Wellness Help Line 24 hours a day, 7 days a week for counselling and crisis intervention.
Call the toll-free Help Line at 1-855-242-3310 or connect to the online chat.
To learn more:
Honourable Murray Sinclair - Impacts of Residential Schools - YouTube
Honorable Murray Sinclair - Repercussions des pensionnats Indiens - YouTube