Posted: June 19, 2020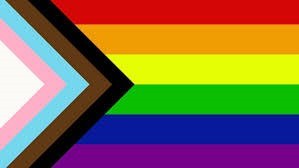 You may have noticed the rainbow flag at the entrances to the Family and Children's Services of Waterloo Region offices. The rainbow flag is used as a symbol of lesbian, gay, bisexual, transgender, and queer (LGBTQ+) pride and social movements.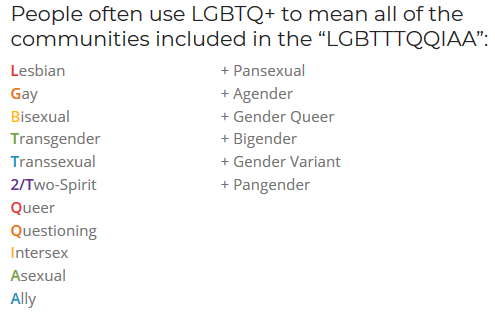 Definition taken from: https://ok2bme.ca/resources/kids-teens/what-does-lgbtq-mean/
This version of the flag may look slightly different from others you have seen. In June 2018 designer Daniel Quasar released a redesign to focus on inclusion and progress within the community.
While retaining the common six-stripe rainbow design as a base, the "Progress" variation adds a chevron that features black, brown, light blue, pink, and white stripes to bring marginalized people of color, trans individuals, and those living with HIV/AIDS and those who have been lost to the forefront. According to Quasar "the arrow points to the right to show forward movement, while being along the left edge shows that progress still needs to be made."
We have posted these flags to state our support for the LGBTQ+ community and our commitment to providing a safe space for staff, youth and families no matter how they identify.
Source: https://en.wikipedia.org/wiki/Rainbow_flag_(LGBT)