Interview with Jeremy Dias
Posted: June 18, 2020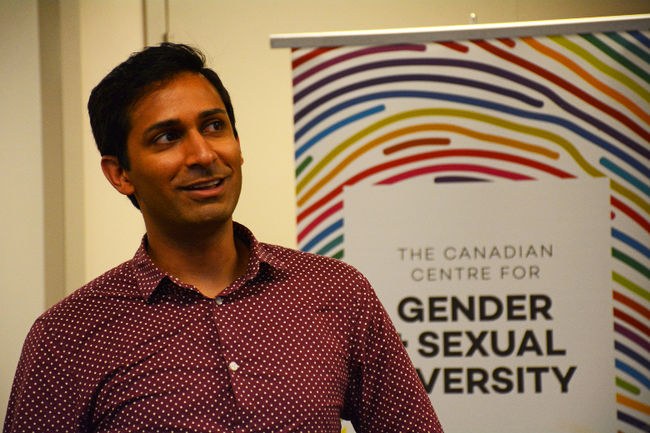 Jeremy Dias (who uses they/them pronouns) remembers coming home from high school almost every day and crying because of the bullying and abuse they'd gone through. "I was a person of colour, queer and different," they say, "and I got bullied a lot – by teachers and students."
Jeremy tried to get help and support. They asked the school to start a Gay-Straight Alliance group and allow a Positive Space Campaign. Both requests were denied, and the bullying continued. After Jeremy's prom, though, while they and their friends were having ice cream at a post-prom party, Jeremy's prom date casually mentioned: "You should sue the school." At first the idea seemed outrageous – Jeremy was only 17 at the time – but it grew.
Before doing that, Jeremy wrote to the Minister of Education describing his experiences. She wrote back, and told Jeremy that she had spoken to the local school board and been assured that Jeremy's stories of abuse were not true, or had been dealt with.
Jeremy was furious. "I went around the school and got the people who had bullied me to sign letters about what they'd done," they say.
With that evidence in hand, Jeremy went to the Human Rights commission and won the second-largest settlement ever awarded. "All I really wanted was an apology," they say. "I felt that the money, since it was taxpayer's money, should be spent to help others." Jeremy used it to start a scholarship in their name and founded the Canadian Centre for Gender and Sexual Diversity which reaches more than 250,000 people annually. They also began speaking at high schools and other groups about their story.
More recently, Jeremy has returned to university and is working on a Master of Public Policy and Administration at Carleton. "I'm looking forward to working on making change from the inside rather than the outside," they say.
Jeremy's commitment to social justice goes beyond their personal experiences. Their father was Executive Director at two Children's Aid Societies (Algoma and Kawartha-Haliburton) and they say they have "a passion for CAS work." During high school, Jeremy volunteered at the agencies where their father worked.
"Social just work at its core is about creating a space for people to make mistakes and then learn and improve. This work means that we need to reach out to folks who cause harm and find ways to change behaviours, attitudes and knowledge that we can all be more inclusive. We can't just lock everyone who has done something bad away. We need to create strategies to support people to do better for each other, and foster space for folks who make mistakes to apologize and do better. " they said.
Jeremy continues: "One way of helping queer and trans people is by helping cis and straight people to do better. Being an ally is not an identity, it's an action."
By way of example, they tell a story about their therapist: "My therapist has a photo of his wife on his desk, he identifies as heterosexual. But he also has the rainbow flag on the wall, and that means a lot to me. On the intake form when you start therapy there, they ask 'what pronouns do you use, do you have a partner, how does your partner identify." That matters. I asked my therapist 'how do you remember my pronouns?" and he said "I have them written on the top of every page of my notes about you. It's hard for me, so that works to remind me.'"
That's Jeremy's message to those who want to be allies: look at where you need to do better, listen to feedback, challenge yourself and do whatever you can do progress forward.
Their message to youth who are 2SLGBTIQA+ and facing discrimination or bullying as a result: "It's okay not to be okay. It took me a long time to learn this. When people say hurtful things or attack you, it's okay to be upset and hurt and broken and sad."
But their second step is just as important: "Ask for help and try not to give up. The first people you ask may not understand what you need or know what to do. Keep asking. I asked for help a lot from teachers and school administrators and got ignored. It took a while, but eventually I did get support – and counselling and therapy."
Jeremy did eventually get the apologies they had hoped for from their school and school board. A teacher who had pushed them down the stairs said she was sorry. And at a speaking engagement at their former high school, the new Director of the local Board of Education, came up and apologized as well.