Holiday Support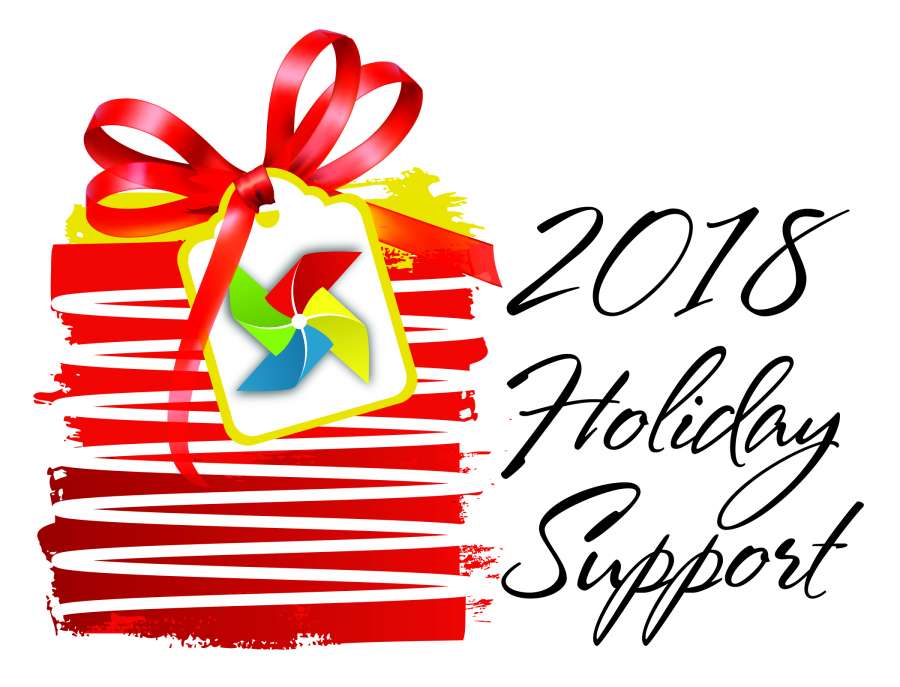 Thank you for your interest in participating in our Holiday Support Program - your donation will brighten the holidays for children, youth, and families in Waterloo Region and we would like to thank you for that care and your support. We are grateful for your kindness and generosity.
Before you start making lists and checking them twice, we'd like to share some changes to this year's program. Please read below for information on registration, gift amounts, tax receipts, and wrapping.
Matching Families & Youth
If you would like to be matched with a family or a youth to provide holiday gifts, please register for the matching program between October 1 and November 19.
When you sign up, you will be asked for the total number of individuals that you wish to support. If you are offering to support a youth, please provide gift cards only. If you are being matched with a family, gifts are very much appreciated.
You will be notified by email of your match by November 25 at the latest.
IMPORTANT: In the event that we have more donors than families or youth,
you will receive an email by November 25 that will offer other opportunities to provide much-needed support to local children and families.
Gift Amounts

This year the requested gift amounts are as follows:

Families: $25 grocery gift card per person plus $75 per person in gifts Example: If you are supporting a family of three, the donation would include $75 in grocery gift cards plus gifts for each person in the family totaling $75 per person. The total amount to support this size family would be approximately $300.

Youth: $100 in gift cards. We will let you know which cards the youth has requested.

Tax Receipting

As you may remember, there were significant changes in 2017 to the requirements for receiving an official donation tax receipt for your donation. We encourage you to read the Donation Receipt Guidelines to determine eligibility for a tax receipt for your donation BEFORE you start shopping.

If you are unsure of which category you belong to as a donor or for information on tax receipting, please contact us BEFORE you make any purchases.
Gift Wrapping
Donations for the families must arrive at the donation drop-off unwrapped, but we encourage you to provide wrapping supplies such as paper or boxes. Whenever possible we like to give families the opportunity to be part of the fun and excitement of the season. Wrapping their family's presents is one way in which they can participate.
READY TO REGISTER?
Your commitment to the Holiday Support Program means that the children, youth, and families we serve will enjoy the magic of the holiday season. They will also know that you, a person they have never even met, cares about them. That caring and kindness shown by a stranger is a remarkable gift that gives beyond the holiday season.
CLICK HERE TO REGISTER FOR THE HOLIDAY SUPPORT PROGRAM
Thank you again for your kindness and generosity. If you have any questions about the matching program, please feel free to contact us by email or call us at 519-576-0540 ext. 3754. We look forward to seeing you in December!
Click here to discover other ways to support children and families now and throughout the year.
For all other inquiries (toy donations, receipting, group donations etc), please contact the Foundation
Donor Privacy
For more information on our Donor Privacy Policy, please click here...