Dress Purple 2022!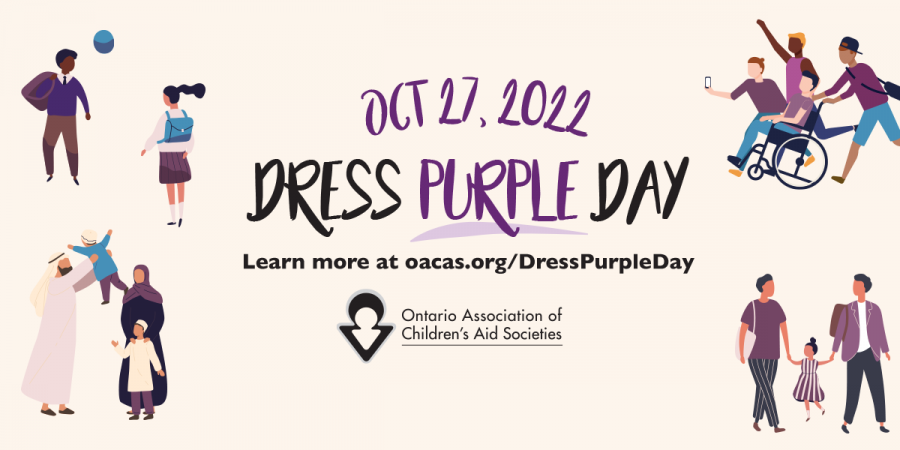 This year, Dress Purple Day will take place on Thursday, October 27, 2022. We want to make sure children and youth in Waterloo Region know that the community is #HereToHelp. You can show that you care about kids and families by 'going purple'.

You can show your support in a variety of ways:
Wear purple on October 27th – whether it's a t-shirt, shoes, or a head to toe ensemble, wear purple to show your support for children, youth, and families in Waterloo Region.
Book a spot for a fall photoshoot!

Make a video telling the community "I Dress Purple Because…." and post it to your website, share to your friends and colleagues via email or your newsletter, and post on social media! You can download the Video Toolkit for talking points and video 'how to's.
Share on social media! Download the "ready to go" images and content and share on your business social media platforms throughout October but especially on October 27th. Don't forget the hashtags #DressPurpleDay #IDressPurpleBecause and tag us @FACSFoundation on Instagram and Twitter
Use the Twibbon on your Twitter profile
Download the Dress Purple Day Video Call Background
Got a window? Download a Dress Purple Day sign and share why you are dressing purple!
Want to do more? Dress Purple Day is a great day to fundraise to support the programs and services that prevent child abuse and neglect:
Host a Tip Tap Pay station at your organization or business! Staff and customers can tap their credit cards and make a donation using the station that we will provide you! Contact us and we are happy to share more details! Click here to learn more.
Set up a challenge for your team at work, your friends, or your family and raise funds through peer to peer fundraising! Some ideas include colouring your hair purple, wearing a purple outfit, or maybe you match all donations made. Feel free to be creative! When you reach your fundraising goal, it's time to deliver on your promise! To set up your peer to peer page, click here.
Create a custom donation page for your business and solicit gifts from staff, clients, customers, and friends. Brand it with your logo! An excellent way to show your commitment to helping children, youth, and families.
Make a donationon behalf of your customers, staff, or colleagues. A tribute gift is a great way to acknowledge a business anniversary, professional and personal milestones like birthdays, retirements, or other special occasions.
Check out Goodszilla - a new Canadian online marketplace that lets you sell your stuff and donate a portion of the proceeds to charity!