Coalition of Muslim Women of KW (CMWKW)
Towards Violence Free Homes (TVFH)

TVFH supports racialized women, including Muslim women, who are at risk of / experiencing domestic violence, while raising awareness about domestic violence and available resources in the community through bi-weekly sessions in Amharic, Arabic, Dari, Farsi, Gujrati, Punjabi, Somali, Tigrinya, Turkish, and Urdu/Hindi.

The services of TVFH program are delivered by a team of ten Community Peer Workers from diverse background.

For more information, please refer to the websitehttps://cmw-kw.org/programs/tvfh
Hate Incidents and Discrimination Reporting System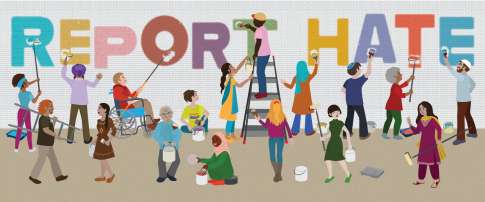 The Coalition of Muslim Women of KW (CMWKW) has launched a hate reporting system/tool for the Waterloo region. Anyone who has experienced or witnessed a hate incident or faced discrimination because of racism, Islamophobia or xenophobia (anti-immigrant sentiment) can now report it and seek one-on-one support. The hate incident can be reported online atReportingHate.ca.
Alternatively, reporting can also be done by email, phone call, text message, audio message, video message or even Whatsapp. It can be reported in any of the 10 available languages. To report an incident, call/text/Whatsapp: 519-722-2449 or email at report@cmw-kw.org.

For more details and to access one-on-one supports,checkhttps://reportinghate.ca/
Book Club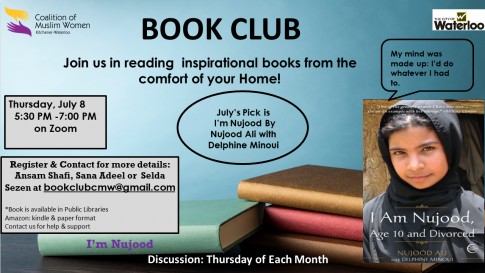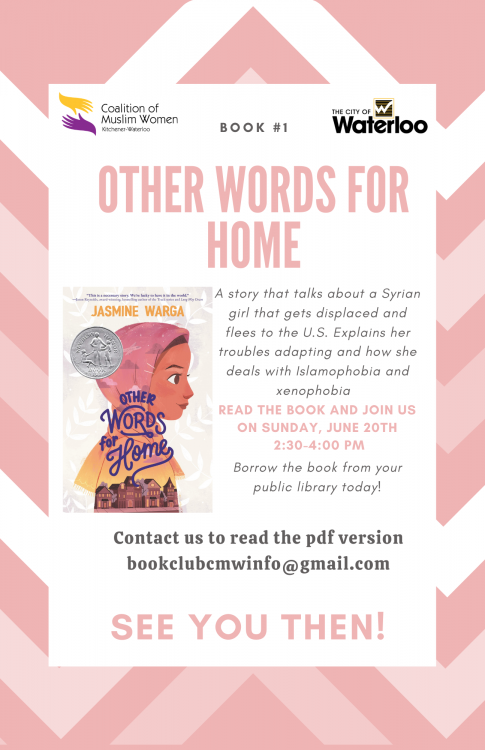 Covid has limited the ways one engages within the community. Therefore, Coalition of Muslim Women of KW brings you an amazing opportunity to join CMWKW Book Club starting June 20.

Funded by City of Waterloo, the book club will provide a great opportunity for a meaningful activity for youth and adults. The book club is run by women to empower other women and building friendships at the same time. There will be two separate groups, one for youth and one adults.
For more information please contact Uzma Bhutto atUzma.Bhutto@cmw-kw.orgor call 519-576-0540 (Ext 3468).